The goal to keep your office clean and neat could be much more challenging than you can think. So let's explore why is it so?
The Importance of Clean and Neat Office
The conditions of your office space influence your employees significantly, respectively, it influences their professional results which are expressed in the company's profit. In the list below you will be able to find some more answers on the question "why the cleanliness of the office is so important for business?":
It provides your clients with the perfect first impression of your company. If your office is clean and neat it tells your client that you are attentive to detail and successful businessman. This first impression is valuable and its value can surely increase the results of the company.
It provides a safe working environment for your employees. If you would like to make your employees work hard and showing great results continuously, you have to provide them with the respective working environment, namely free from all bacteria, toxins and other contaminators.
It helps your employees to stay healthy and active. As already mentioned in the previous bullet-point, regular and thorough cleaning avoid your staff from illnesses caused by bacteria and other contamination. So you as a manager are surely interested in health and active staff at work.
It helps to save your money. As you have already read earlier, dirty and unsanitary office environments can be dangerous for the health of your employees. And what can be worse, than losing an important employee for a couple of days or even weeks because of illness caused by bacteria in office? All the period of his absence you will lose the money. So it is an obvious reason to keep your office spaces clean and safe for all staff.
It helps to make your employees feel better and more comfortable, which will surely increase their results. The clean office environment always positively influences the staff, which expresses in a higher level of their productivity and, respectively, the company's profit.
The List of Hints That Will Help Keeping Office Clean and Neat
If you're interested in keeping office spaces clean and neat, the list of hints that you will be able to find below will be more than helpful for you. As you already learned, a clean office is a much more important thing that many people can think, so be attentive to this question.
1. Bing More Organization in the Cleaning Process of Your Office Spaces
In case you do not hire a specialized janitorial company to handle such a question, you need to manage the cleaning process by yourself. The list of tasks will be more than helpful in this question, as well as a schedule of regular cleanings.
Some of the tasks from this list need to be done every day, some of them once per a couple of days or once per week, or even one per month. So without a list and schedule, it will be too hard to manage and control the cleaning process.
Bring More Organization to Your Workspace
To keep the office spaces look clean and neat, not only cleaning required. You need to keep your documents, notebooks, pens, pencils, and other stationery sorted and in the proper places. The following hints will help you to organize your working space well and remove clutter:
Clean up the surfaces. You should clean all the surfaces in your working area on a regular basis. In case you have a lot of things on the surfaces, just replace them for a minute, wipe the surfaces with a rag or sponge and bring all the stuff back.
Keep your working stuff sorted. The sorting of your working documents and stationaries will help you not only to understand what is still important and need to be saved, and what you can already get rid of. But also regular sorting will help you to save a lot of money by finding a lot of stationarities that you already forgot about, such as sets of pens or pencils, boxes of notebooks, and others.
Use zoning of your working space and choose the best places for storage each type of stuff that you use during your work. For example, if you use something often during the working day, place it close to you, but if you use the item for a couple of times per month, place it on the farthest shelf.
Keep your working stuff in specific places, such as cabinet shelves and desk drawers, but not on the surface of your desk. Because when all of your documents, as well as a notebook with a pen or pencil on it, store just on the desk, it looks not clean and neat for sure. It looks more like a mess.
Put your jackets and coats on the hang-up hooks on the wall, instead of your chair, it will look much better.
Keep The Office Spaces Free from Dust
Removing it is a necessary part of the cleaning procedures because dust is dangerous not only for your electronics because of static buildup, but for the health of your employees also. So here is a list of simple hints to fight dust:
Go from top to bottom. It means to start from wiping the dust from the highest surfaces and then go to the lower;
Replace items from the surfaces to wipe both of them up thoroughly;
Use a cloth from microfiber for wiping the surfaces of furniture located in the office, as together with walls;
To use one cloth for a multiple-time, it should be thoroughly rinsed with warm water after each usage;
You may use such cloth for wiping a screen of working computer, but better to use anti-static wipes for it;
To free blinds from dust, start with the top one and then go lower;
Do not forget to remove the dust from all furniture and items in each premise of your office;
To free carpets and some other flooring material from dust, it will be better to use a vacuum.
4. Move and Replace Furniture to Clean Up All the Places That Are Hard to Reach
Please be noticed, that if you have many places in your office space that are hard to reach, there probably already grow a colony of pathogen contaminators.
So it will be more than wise to move furniture in your office and place it in such a way to minimize places that will still be hard to reach. Also, please do not forget about cleaning the ceiling, because it also can store a lot of dust and pathogens.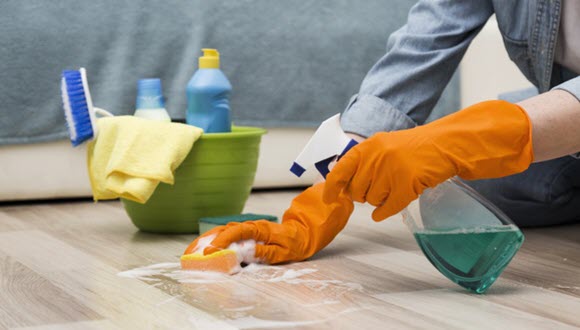 Remove All of the Trash Every Day
Every day removing the trach will help you not only to keep your office clean but avoid unpleasant odors also. To organize this process, make a schedule of trach removing and share the responsibility between all of your employees to make it fare. Also, it will be wise to clean up trash bins at least once per week to keep them clean and avoid unpleasant odors.
Avoid mud contamination of your office flooring during the rainy weather by placing mats close to all entries
Even if you have no mats yet, just believe that it is much easier to buy them than clean up the carpet flooring from the mud.
Keep Everything Sanitary and Disinfected
Especially it is important during the seasons of flu and the common cold. It is too expensive for a business to lose its staff for the period of illness, so it is wise to prevent such cases by keeping your office environment thoroughly clean, sanitary and safe.
Keep Your Office Environment Safe for All Of The Employees and Clients By Using The Right Equipment And Products For Cleaning
To make the cleaning process and its results safe for everyone in the office, you need to be sure that only hypoallergenic and non-toxic cleaning products used for it.
It will be wise to use cleaners without any smell and coloring compromising, especially if you use it for carpets cleaning. Also, if you do not have modern cleaning equipment, you should think about buying some of them. Because old mop with colonies of germs on it, will not be able to make your office clean and sanitary for sure.
Keep Carpets Clean and Safe
Carpets considered to be the perfect place for collecting dust, germs and even mold. That's why it is extremely important to keep them clean and safe for everyone in the office. And it is not enough even to use a vacuum cleaner every day, it is better to use a streamer for it.
Professional cleaning and janitorial companies apply the encapsulation method which is effective in cleaning up the carpets. This method includes the following steps:
The encapsulation fluid sprays on the carpet by a pump sprayer;
Leave it for ten or fifteen minutes, and then work into the carpet with the help of a rotary brush;
Then the encapsulating debris picks up by a vacuum once the carpet dries out.
Keep Your Flooring Materials Clean
Different types of flooring materials require a different approach to its cleaning. If we are speaking about such type of hard flooring as hardwood floor, it may recover standard deep cleaning with using an epoxy application.
Tile, Stone, and Grout Cleaning
It's difficult to maintain tile and grout properly, this is why many people complain about them over time. And the main complains are as follows:
Change in color of the grout;
Tile lost shine and changed color;
Grout has become dark in some areas;
Weariness becomes noticeable;
The odors from grout appear.
However, all of these are possible to be restored by applying high-alkaline chemicals and scrubbing the floor with the high-powered steam flow. The results of such scrubbing should be gathered by vacuum cleaner immediately. After this wash the floor with a lot of water. In case it wasn't enough you can request for the professional grout dyeing services for making your tile look like new.
Furniture Cleaning
Soft furniture has the ability to absorb dirt, so usually, it contains a lot of stains, dust, and bacteria. Any spillings should be cleaned up as soon as it's possible. But be careful with cleaners, follow instructions regarding furniture treatments, and test cleaners and small areas before applying them to the whole object.
Windows Cleaning: Interior and Exterior Parts
Your windows should be cleaned from dust and stain together with blinds and, if applicable, curtains. Pay attention to the exterior parts, so your office will be clean from the outside too, although sometimes it can be challenging. A professional cleaning company can do for you both types of windows cleaning interior and exterior.
Motivate Employees to Keep Working Areas Clean
It could be difficult to clean the whole office at once, this is why its recommended to plan a cleaning room by room. Sometimes visualization is very helpful for such planning. Additionally, you should make efforts and motivate employees to keep the workspace clean in the following way depending on the room type:
Meeting rooms: obligate people to keep whiteboards clean after each time of using them. Ensure there are no strains from markers if they were noticed take care of them.
Restrooms: being the host of bacteria from the whole office restrooms requires disinfection on at least a daily basis. Ensure toilet bowls are properly cleaned with brush and cleaner, water around sinks is swiped, floors are regularly cleaned and don't contain excessive water on it. Take care of soap, toilet paper, and paper towels being enough.
Break room: avoid gathering old food and remaining in the kitchen because in such a way the kitchen becomes an attractive area for pests and bacteria breeding. Ensure the fridge is regularly freed from old food (at least on a weekly basis) and cleaned with disinfectant as well as microwaves (on a daily basis). You can also use deleted oils to get rid of odors. Ensure dish drainer is properly cleaned each day to avoid mildew appearance in it. Take care of paper towels, dish towels and sponges being enough.
Waiting room: take into account that it's a place which represents the company at the most, this is why it should be as clean and shiny as possible to make the first impression to customers positive. Regularly clean seating areas, ensure magazines you provide visitors with are up to date, ensure glass surfaces are free from fingerprints, and thoroughly clean floor applying either mop or vacuum.
Handling office space divided by rooms is convenient for organizing it in the future. It's good when items have their constant places, so employees know how to handle them properly.
Invite Team of Professional Cleaners
Maintaining cleanliness in the office is an exhausting and challenging task, which takes away the time which could be spent on business. This is why the following advantages are valued when it comes to hiring professionals to keep the office clean:
Convenience: managing cleaning issues is an important process, which however is not the main task in business. This is why it's important to distinguish between tasks and leave the cleaning job to a professional team, which is responsible not only for cleanliness, but for managing, hiring, and supervising the cleaning personnel.
Professional equipment: thorough cleaning requires specific equipment that could be absent in the office, so the professional cleaning company hired helps with this issue and handles all places which are hard to access and clean, like for example exterior windows. Additionally, professional equipment applied by a hired team allows maintaining carpets and floors in a shiny state, like being new.
Efficiency: a team of hired professionals applies a comprehensive approach to the work, so they clean deeper and better than you can do on your own. Their expertise allows paying attention to the specific areas requiring special treatment.
What Are Reasons to Trust Signature Water and Fire Restoration
We aim to exceed the expectations of our clients and provide high attention to details and client-orienting. We strive to leave you satisfied with shiny cleanliness left after our work. Here are a couple of rules we follow to provide you with the best service in cleaning your office:
Before the billing, we ask clients for the confirmation of services of proper quality received from you was obtained.
We comprehensively train our employees and check their backgrounds and ensure they feel comfortable being working for us, so the service they provide is high.
We apply only professional equipment, which allows us to provide top-of-the-line service.
We seek feedback and opened for communication during the cleaning process.
Signature Water and Fire Restoration is a company, which can make your office clean and free from bacteria and pathogens, shiny and attractive to customers. We're the leading company in Illinois and provide our services for years. Call us at 1-224-515-0100 and we'll find the understanding of what you need and how we can give it to you.