The cleanliness of the plant and its premises plays an important role in the client's attraction and successfully operating. No one interested in buying goods from the plant which is covered with dirt, and grease, where depreciated parts are in a mess at the territory and work with tons of dust, grime, and clogs in the HVAC system. Additionally, not a high number of employees will be ready to work in such a mess.
And vice versa, shining premises, cleanliness and effortlessly working equipment make an impression of the good order and proper approach used by the business owner. Which in turn attracts clients creating an impression of being trustworthy and evidencing the potentially good quality of the products and make employees sure in their safety, which means no shortages in human resources expected.
Additionally, properly cleaned equipment determines the effectiveness of production. However, industrial cleaning can become a challenge because of the complexity of the work and the huge area. Happily, there're still convenient options to be applied for handling this issue.
Below you may find more details on reasons to keep facilities clean, determination of areas, which require special attention and handling, and some simple guidance on how to manage the cleaning at the plant and warehouses.
Why Plan's Cleanliness Is So Important?
Below you may find reasons and motivation to keep your working premises and areas for rest clean.
Providing a Healthy Environment for Employees
For the business owner who is serious about employees' health, it is important to realize that clean and hygienic facilities are an essential factor for this. The number of variants on how the employee can suffer from the unsanitary conditions and dirt is high:
Improperly cleaned food and meals areas like kitchens can cause the breeding of pathogens in old food and cause foodborne diseases and illnesses;
Lack of ventilation and dirt in the air cause respiratory illnesses, nausea, headaches, problems with focusing, and so on.
Another example is the situation when dirty surfaces serve as a breeding area for bacteria and pathogens and can easily transfer viruses including flu and colds from employee to employee. Statistics show that the virus's speed of spreading in such a case is infecting 60% of personnel in 2-3 hours.
Regular cleaning reduces the majority of the risks mentioned above and some of them eliminates totally. Additionally, business owners should remember that according to the General Duty they must provide their employees with a totally safe working environment, which is free from hazards, otherwise, the regulator may take measures including fines.
Providing a Safe Environment for Employees
Employee safety is directly dependent on the order to mess rate. The dirt on the floor like oil or other fluids may be the reason for someone's slip and respective fall supported with significant physical traumas. At the same time, any premises cluttered with equipment parts, cleaning tools, boxes, and other staff is a potentially dangerous area where an employee can either trip and fall or feel falling to him things.
The number of injuries got at the manufacturing in 2018 is close to 120 thousand and the number of people injured at warehouses is more than 20 thousand. Cleanliness at those premises could significantly reduce the number of harmed people.
Handling Allergens
Plants that have problems with regular cleaning are full of dust, which in turn blocks the proper HVAC system performance. Thus the air and surfaces containing the dust together with allergens make the personnel suffer from sneezing and coughing. Another type of allergens caused by poor cleaning is mold, which can cause problems with breathing, congestion, itchy eyes and skin.
A frequent thorough cleaning can reduce the dust and the number of allergens in the air and the working space. So employees will feel much better and will keep their productivity at a high level.
Productivity, Effectiveness, and Efficiency
Clean equipment and facilities are essential to high productivity. A healthy, safe, clean and comfortable working place is a high motivation for employees to do their work better. In such a situation people have less sick leaves and avoid undesirable sick leaves connected with physical traumas due to hazardous working conditions.
According to the statistics provided by CDC employers loss productivity decrease caused by employee health problem amount in average $1700 annually per employee or $226 000 million per year in total.
At the same time, healthy employees have higher motivation and a positive attitude for performing their work. According to the study provided by the English University of Warwick, employees who know that work in a safe environment are 12% more productive than others.
The equipment's productivity can be increased by increasing cleanliness as well. The absence of dust clogs gathered old oil and grease is the key to having no unexpected malfunctions and efficient resource utilization.
Thus the thorough cleaning of premises and equipment can not only safe from additional losses but increase overall productivity being an important step of maintenance.
Product Quality
The quality of the production is also dependent on the cleanliness of the premises it is manufactured in. There is no chance to get clean and high-quality products produced on contaminated equipment and went via dirty surfaces. Except for product quality decreases its attraction for clients, because no one wants to buy good with dirty label or package, which directly affects profits.
Extremely critical can be effects of the absence of the regular cleaning for manufacturers of electronic technics, which will have defects in majority goods because of dust got at micro schemes. Or for food producers, who can bring significant harm to customers providing them with food cooked at dirty surfaces.
Business owners who care high quality of goods produced arrange frequent complex cleaning of all areas used for manufacturing.
Management
As much the working environment is organized as more effective the overall management is. Plants who have no regular cleaning procedures at their warehouses often face confusing situations and operational issues. It's impossible to find something needed for client servicing or other usual activities in the disordered space. Such a mess leads to ineffective time distribution making employees do double work and waste time for search objects they need.
Keeping working space and warehouse clean and in things in a strict order allows to increase the organizational level and management results in general.
A Decrease in Expenses for Maintenance Work
Unclean equipment and warehouse suffer from malfunctions more often than if the was regularly cleaned, so the expenses for maintenance and repair work become much higher. Dust and dirt cause clog in equipment, so it will require further repairs. Excessive moisture caused by spills or leakage can cause corrosion, rust, and mold.
Resolving the problems caused by irregular cleaning is much more difficult and expensive than invest in regular cleaning. Chances to have unexpected malfunctions and losses in productivity are extremely low if you keep your premises clean.
Image
Except for creating uncomfortable and difficult conditions for employees keeping the plant in a mess may cause adverse effects for your image. Visitors and customers take the mess and dirty facilities as the sign of not careful approach to business and as not being serious about collaboration.
The warehouse in the certain means is a business card for the plant, so the surfaces should be clean, the floor should not contain any spills, and things must be in order. All of these could be achieved by arranging regular cleaning procedures.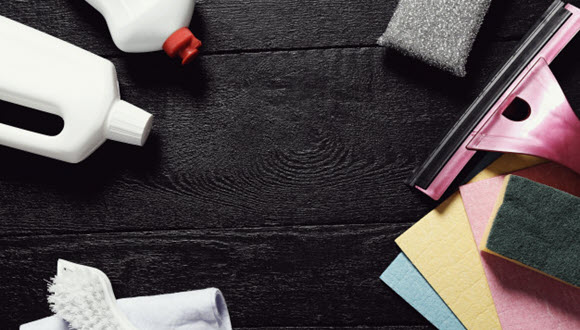 Determining Areas Which Require Regular Cleaning
The areas which require regular cleaning procedures should be communicated to warehouse and manufacturing facilities managers and operators.
Machinery
Machinery and equipment is the area of responsibility of facility managers. Improperly maintained and cleaned machinery can be damaged by corrosion, rust, clogs, frequent breakdowns, and productivity decreases. Machinery cleaning is a complex process which includes:
Lubricating of its parts;
Wipe down the dirt and dust from the surfaces;
Careful drying of areas of possible moisture collection to avoid mold and corrosion.
The best helpers in these purposes are:
Degreasing agents and different sprays;
Cleaner pumps;
Dilution control systems.
Surfaces
During the manufacturing process, it's natural when surfaces are covering with oil, grease, some applicable fluids, dust, and other types of contaminants used during production. In case gathered dirt will not be removed timely and thoroughly they will create a sticky slimy layer, which will smudge products spoiling them in such a way.
Regular cleaning of the surfaces allows keeping cleanliness and representative look of goods produced.
Floor
Facility managers should ensure the floors in the production area are properly cleaned and dried because this is the place for the easiest collecting of dirt, dust, debris, spills, or other types of hazards. Separate attention should be paid to the materials on the floor. It is not allowed to have there a mess, otherwise, it would be impossible to avoid trips and falls causing traumas to employees.
Regular cleaning, which includes sweeping floors and taking away items from it, helps to provide employees with a clean and safe environment.
HVAC System
The HVAC system is one of the best ways to keep the warehouse free from dust. But as a result, cleaning the air and premises from dust HVAC systems requires cleaning from the dust as well. Only being clean and free from the debris HVAC system can provide clean air and a safe working environment for employees.
The regular maintenance work arranged without delays and changing filters allow to prevent mold and dust collection in your HVAC system. Keeping it clean and performing effortless is a key to reducing allergens and pathogens in the air for protecting employees from it.
Warehouse and Storage Area
It's hard to provide complex and thorough cleaning of warehouses because they used to be full of products or other inventory. But at the same time, the strong warehouse cleaning procedures should be in place, which at least include:
Sweeping;
Mopping;
Dusting;
Ensure you moved all items to cover all the space with your cleaning procedures.
Windows
Washing the windows is an important part of general plant cleaning. In case they are dirty they become a favorable area for bacteria breeding, which may negatively affect your employees' productivity and quality of your product.
Clean windows regularly with spray and thorough scrubbing. In case you have big windows it's recommended to apply specific extension tools or call professionals for doing it for you.
Tile and Its Grout
Some surfaces covered with the tile continuously affected by water, like for example shower floors or walls, rinsing stations or others. Being continuously wet they are at risk of mold growth, this is why they should be scrubbed with specific tile cleaner. Additionally, the cleaner should be applied to drains.
Another good option is to apply EPA approved antimicrobial cleaner, which will allow killing spores of mold before they started to spread. All in all, for cases when you do not have such a cleaner, but noticed the mold you can apply the bleach or call professional services for disinfection and cleaning.
Carpets
If some areas are covered by carpets (sales offices, conference rooms, etc.) they require special attention as well. The tricky trait of the carpet is its absorbing ability, so it becomes difficult to clean it from already absorbed dirt and contaminants. This is why its important do not allow contaminants to collect in it and regularly clean carpets by vacuuming and washing them.
Kitchens and Restrooms
Although these areas relate to the production indirectly they still need to be kept clean. As was previously mentioned to avoid bacteria breeding in the remaining old food at the kitchen all surfaces should be frequently wiped down with a household cleaner. In such a way the kitchen will be shiny, clean, and ready for guests.
The same applies to bathrooms. It's highly important to clean them with specific tools and keep clean and sanitary.
Handling Debris
The key point of handling debris is to regularly (at least once per day) clean your bins and trash cans. Otherwise, excessive garbage may be left on the floor and cause a potentially dangerous situation. The best practice requires regular swiping bins and cans with cleaners to prevent bacteria breeding.
What Are Advantages from Hiring Professional Cleaning Team
The cleaning to-do list is huge and can take a lot of time and effort from responsible people, who can easily forget some steps or do some work with improper efforts. This is why trusting this work to professionals is beneficial to business owners. Other important arguments for hiring a professional cleaning team are:
Safe and healthy environment. It's essential to keep factory/plant clean for providing employees with safe and healthy working conditions. A professional cleaning team can easily remove pathogens, allergens, and other hazards. As a result, the employees' feelings of being at work and motivation will grow.
Handling areas that are hard to clean. Some corners, large windows, ceilings, and other hardly accessible areas require cleaning as well as other places at your plant. To remove debris from there the professional equipment may e required. This is why applying professional cleaning services you can be sure any part of your premises will be cleaned with special equipment and cleaning solutions.
Complex result. Handling cleaning issues by themselves some business owners can only deal with local contaminations and spills, which are easily observed. Hiring a professional cleaning team you can be sure in the comprehensive approach applied, which allow not only clean obvious areas but make complex procedure including disinfection.
Deep expertise. Facility managers are not experts in cleaning procedures in contradiction to professional cleaners. Dealing with each separate case of contamination and dirt, applying years of experience is a reliable guarantee of high-quality of work performed.
Reducing the risk of fire. Although the first thought connected with danger from the spill is fall it is not the full truth. In case the spill is made of oil the fire probability is high. Team of professional cleaners thoroughly remove any oil and grease reducing the risk of fire at manufacturing facilities.
Savings. Keeping the plant in proper cleanliness allows to increase productivity, employees' satisfaction from work and motivation, increase product quality, and create a positive image for customers. All of these can easily and fast recoup expenses for professional cleaning team and even make some savings. Another source of savings is reduced costs for maintenance and repair works because properly cleaned equipment face malfunctions rarely. Except for cash the time is also saved because there's no need to assign a separate employee to be responsible for cleaning and supervise his work. All is done by professionals with deep expertise, which allows focusing on operational activity.
Signature Water and Fire Restoration – Leader in Cleaning Services in Illinois
If you decide you need the professional cleaning services you can contact Signature Water and Fire Restoration for it. We can make your plant and its warehouses sparkling and shiny, fight viruses and bacteria and help you to provide a comfortable working area for employees.
We are good at any type of work starting from simple floor cleaning and continuing with complex disinfecting procedures. Difficult and non-standard projects are our specialization, so don't hesitate to contact us at 1-224-515-0100 for help and consultations.
We're attentive, client-oriented and highly thorough in the work we do. We aim to exceed our client's expectations and leave them happy with the cleanliness we do.