According to the National Fire Protection Association data, the main reason for fires in residential houses is cooking. And holidays are the most dangerous time of year when such fires increase by 72 percent. The main reason for this fires is left the unattended stove. So be careful during the cooking and keep everything clean, because it will help you to avoid fire damage.
Let's Speak About Numbers and Charts
It is obvious that your chances to face fire damages are high if you are not careful during in the kitchen. As you already know cooking is the main reason for fires, especially during the holidays, so let's see it in numbers:
48 percent of fires in residential houses caused by cooking equipment;

As well as 45 percent of home injuries related to fire;
As well as 21 percent of home deaths related to fire;

15 percent of home deaths related to fire caused by the ignition of clothing during the cooking;
32 percent of fires in residential houses caused by left unattended cooking equipment;

As well as 50 percent of home deaths related to fire;

1st place of the top of fire hazards during cooking holds by frying;
Top-3 holidays by a number of home cooking fires looks like this:

1st place – Thanksgiving;
2nd place – Christmas Day;
3rd place – Christmas Eve.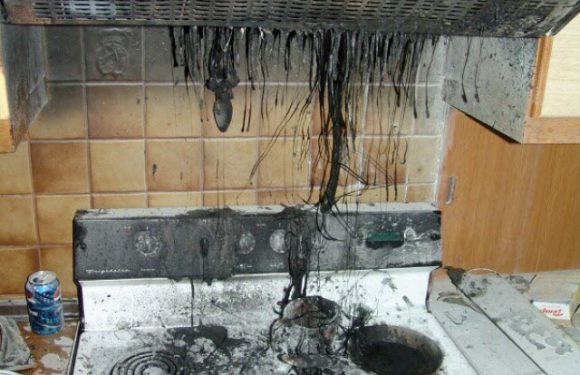 How to Avoid Such Fire Risks?
To keep the environment safe during the holiday, you need to be alert in the kitchen and follow safety tips. The major useful tips that will help you to minimize the risk of facing fire damage can be easily found below in the following list:
Keep paper towels, wooden utensils, oven mitts, and other flammable objects far away from the stove;
Keep your kitchen clean and tidy;
Keep your timer close to you in case you decide to roast or bake something;
Do not leave the kitchen during the cooking;
Be careful and attentive during the cooking. Do not try to start cooking after drinking any alcohol, better let someone else do it.
How to Keep Environment Safely During Cooking with Oil?
In case you would like to cook something that requires using oil, you need to be much more alert than before. If smoke's smell noticed, the stove needs to be turned off and the pan needs to be removed from it immediately. Because such smell lets you know that oil's temperature is too high and it can explode.
For more hints that help you to stay in safety, please look below:
Put any food in the pan carefully to avoid splatting the oil;
Heat the pan slowly to the required temperature;
Every time when you decide to cook something with using oil, keep the lid close to the pan to have a chance to cover it and avoid splatting the oil on a stove.
Be careful and do not let your holiday cooking become the reason for serious fire damage. But in case it happened, please feel free to call Signature Water and Fire Restoration and our specialists will help you to fix everything as fast as possible. Our phone number is 1-224-515-0100, call us!