Every person who had a deal with the aftermath of flooding and water damage knows how challenging and stressful it is. The process of residential property restoration after flooding can take a lot of time and of course significant bill. That is why more and more homeowners would like to know how they can prepare their property to avoid or at least minimize a chance of huge damages caused by water. So below you will be able to find useful tips that can help in this question.
Start from the Foundation
As older the foundation of your residential house gets, as more cracks it gets. These cracks are small and tiny at first, but since they get effected by water they become wider and can cause significant flooding in the basement of your home. The good news is that on the first stage of the appearance of cracks when they are small, you can handle this issue by yourself. First of all, you need to check out the foundation on a regular basis to identify any cracks and gaps in the very initial stage of their development. Since you noticed any of them, fill them in with mortar, or use masonry caulk. In case you noticed more serious cracks and gaps, it will be wise to call professionals right away.
Check Out the Area
This advice more than helpful for those people who are looking for a new residential property to buy and move in. Because these people can prevent such an issue as natural water flooding by checking out the area of the potential purchased house on special maps that marks areas by the level of risk of flooding. Areas on such maps classified from the most dangerous to mostly safe. Such classification is possible because of historical data and forecast based on it. In case you choose a house in a mostly safe area, it means that you and your family potentially will not face flooding at all, or face it once per five centuries, which is pretty good.
Make Sure that Water Outflow is Free
Regular checking out of downspouts, gutters, splash pads, and so on will be more than a helpful step to prevent water damage because of their inappropriate conditions. Please make sure that all of them are not backed up by fallen leaves, or other types of dirt and contaminators. Otherwise, water that should be carried out of your residential building, may get access inside of it. Also please be careful with drains and ditches in your backyard and lawn, all of them need to be clean to let the water run through them and do not stay in a danger zone from your house.
Protect Your House from Leaks
As you already have read the first tip was about keeping your foundations in proper conditions. Now let's spread this rule to all of your house's areas. A good sealant will be more than helpful in case of sealing up the walls, windows, and doorways. Sealant's main purpose is to protect your house from rainwater and so on.
Raise the Building with Piers and Stilts
This advice is pretty time consuming, expensive, and even extreme. But in any case, it is helpful during the flooding. It works because when you raise a house, you raise your building you also raise the flood level of your residential building. For those of people who are reading this article during looking for the new house to move in, it will be wise to choose the building that is already raised with stilts and piers, because it will help you to save a big amount of money. And also in case of really significant flooding, you will see how useful this tip is.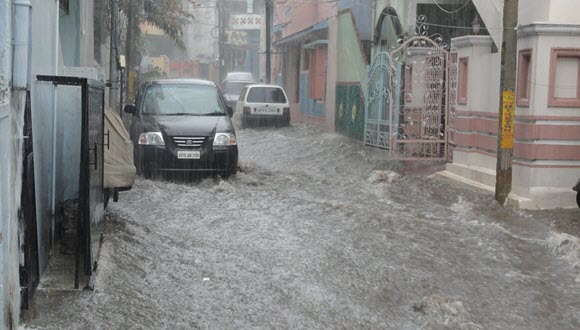 Check Your Sewage Pipes
Since most of the homeowners are thinking only about natural reasons for flooding, they forget about their sewer pipes. And this is not right at all, because a damaged sewage system can not only provide access for gallons of water directly to your residential property but also this water will be smelly and dangerous for the health of you and your family members. Make sure that drain plugs have been installed, as well as backflow valves.
Make Sure Your Lawn Points Toward the Right Direction
Have you ever heard that even the way of mowing the lawn affects the level of protection of your residential property? Probably no, but it is totally normal because only a small percent of homeowners know about this thing. Your lawn can either help water outflow to run out from your house or lead it to your house. If you noticed that your lawn helps water to collect around the house, you will need to change the level, also known as a grade, of the lawn to make grass play the role of gutters and help water outflow to leave the area close around your house.
Let Professionals Do Their Job
As you may already notice, we tried to fill this list with tips that you can do by yourself, such as mowing, sealing, caulking, and so on. But also you need to understand that such work as raising a residential building on stilts and installing plumbing equipment needs to be done by professionals or even a team of them. Yes, it will not be for free and you will need to pay them for their work, but it will surely save you for a much bigger bill in the future if flooding happens. Also do not be too prideful because it is normal that special technical work needs to be done by the technician specialist.
Always be ready for the Worst Scenario
It is more than wise to follow all of the instructions and tips from the article to prepare your residential property for potential flooding. But in any case, you need to understand that no one knows how and when such a disaster may happen, so you need to be prepared for the worst scenario. Here are a few examples of such level of preparedness:
Your emergence bag is packed and be put in a place where you can find it easily and fast;
Your documents are stored in special plastic bags that will save them from water damage;
All of your expensive things are stored on the premises of your house that are high off the ground;
You have bought a pump sump, and so on.
Such tips will help you to be ready even for the most unexpected case of flooding.
What to Do after the Flooding?
With all of the knowledge that you got from the article above, you can prepare your residential property and your family for flooding disaster and try to minimize water damage caused by it. But in case your house in Illinois faced flooding, call Signature Water and Fire Restoration, and our specialists will help you to handle all of the aftermaths and bring your life back to normal as soon as possible. Here is our 24/7 phone number: 1-224-515-0100.