Coronavirus is the main theme of the last year and as far as we can see right now it will be continued. We already have a few vaccines, but all of them need to prove their efficiency. So as for now, we need to do everything we can to prevent infection of coronavirus. And we would like to share with you some tips and hints on how to do it.
Major Tips
A normal thoroughly cleaning process can be performed for those premises where the individual who has coronavirus symptoms spent a small amount of time or just went through them and there is no visible contamination with the biological fluids.
Thorough disinfection and cleaning need to be used for all surfaces that the person with coronavirus symptoms had contact with, such as:

Grab-rails, door handles, telephones, bathrooms, and other high-contact objects and areas;
All objects and areas with visible contamination with the biological fluids.

Using disposable mop heads, disposable cloth, and paper roll for hard surface cleaning helps to prevent further contamination.
As an abstergent you can use the following:

A combined abstergent disinfectant solution with 1000 parts per million available chlorine;
A household abstergent with further disinfection (with the same ppm av. cl.). Make sure that you dilute, apply, and use every abstergent and disinfectant according to the instruction from the manufacturer.
Another disinfectant if you are one hundred percent sure that it helps with enveloped viruses.

Spray and splashes should be avoided during the cleaning.
Use waste bags to dispose of all mop heads and cloths after use.
Use steam cleaning for items that cannot be laundered or cleaned by abstergents, such as mattresses, upholstered furniture, and others.
Dispose of any item that is contaminated with biological fluids and it is impossible to clean it thoroughly.
To make the cleaning process much safer let potentially contaminated areas closed off at least for three days. During this time the amount of contamination with the coronavirus will decrease significantly and you can use usual products to clean the area.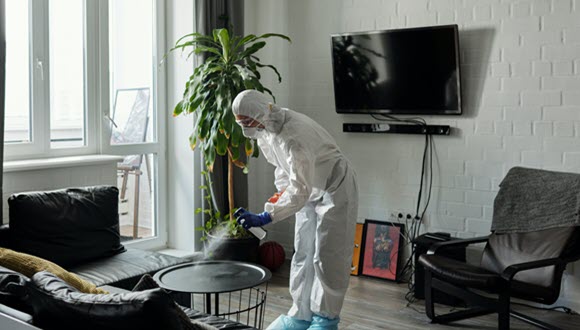 The List of High-Contact Surfaces That Requires a Deep Cleaning:
· Buttons and doors in lifts;
· Vending machines, drinks dispensers, water fountains, and so on;
· All surfaces in toilets;
· Taps, sinks, and all other kitchen surfaces, as well as cutlery, trays, and crockery;
· Chair arms;
· Telephones;
· Laptops and tablets;
· Computer mice, keyboards, and monitors;
· Light switches;
· Door handles;
· All work surfaces, especially desktops.
How Often Deep Cleaning Need to Be Performed?
Here is a simple rule for any type of cleaning, including deep cleaning during the COVID-19 pandemic: the more people touch or contact the surface, the more often it should be cleaned. According to this rule, all of the surface from the list above need to be cleaned once per a couple of hours every day. You can use commercial anti-microbial products or disinfecting wipes, as well as water with abstergent for such cleaning.
Disinfection Tips During Coronavirus
As far as we still do not certainly know the survival time for coronavirus, it will be wise to assume that it can survive on different materials for more than a couple of days.
So in case, the surface may be contaminated with coronavirus, it needs to be thoroughly disinfected by one of the products that proved their efficiency. All the textile that is potentially contaminated, need to be laundered with bleach and laundry abstergent at the maximum temperatures that allowed for such material.
All disinfectants need to be used accordingly to the manufacturer's instructions. Make sure that you do every step of it using correctly, including preparation, applying, and removing after a correct contact time.
Professional Deep Cleaning from Signature Water and Fire Restoration
In case there is a risk that your residential house or commercial building in Illinois is contaminated with coronavirus, let professional cleaners from Signature Water and Fire Restoration do their job. It will help you to avoid the risk of infection during the cleaning and make you one hundred percent sure that all areas and items are disinfected and safe. Here is our 24/7 phone number: 1-224-515-0100.