Wildfires are considered to be a frequent scourge for such states as California, Colorado, Oregon, Washington, and others. Population in those areas knows how much destruction and sorrow fires bring, others can only imagine it from news and statistics.
The most dangerous trait of any fire even the smallest is the speed and force which allow bringing huge damage in a few minutes. Except for property loss and significant damage, the fire always brings a mess that is close to chaos in its scope. Nevertheless, before starting a cleanup it's highly recommended to stop and think about a smart approach and effective plan to handle this issue. Signature Water and Fire Restoration Team proposes the following effective wildfire and smoke damage remediation plan to those got into fire trouble.
Cope With Emotions
Any fire experience is stressful and traumatic. It's natural to feel devastation and depression, but the thing which can help is to realize the damage scope and accept that some property is completely destroyed and cannot be restored. Don't allow panic to take over, keep breathing deeply, and think of your friends and family. The key point is to realize that the worse things are behind when you and your close people are safe.
Step by Step Approach
As fire brings comprehensive destruction the cleanup process requires much time and effort. It's impossible to deal with a huge scope of work performing it in a proper and safe manner in a short period. Realize it and stop stressing about the time spent on remediation. The best thing to do at this stage is to break this scope of work into tasks and follow them step by step.
Contact the Insurance Company
The first thing to do after the call to the fire department is to contact the insurance company. Share all the circumstances and get the consultancy about further steps to take. Confirm the restoration company with the insurance company to ensure the compensation will happen. As soon as these questions will be resolved you will be able to start the cleanup and remediation work.
Restoration Company Hiring
Fire or Wildfire aftermath should be handled only by a professional team of experienced firefighters. First of all, because it is a matter of safety. The second reason is that mistakes made by inexperienced people can lead to problem boost in the future.
Professional help is required when the soot problem should be resolved and the decision on restoration/disposal is made. Improper handling may cause poisoning because of toxic soot properties. Another side is the disposal process, which is also should be done in a proper way.
The effective order of actions taken in frames of wildfire remediation can also be developed only by experienced professionals, who will make it in accordance which each separate situation and circumstances.
Delegation of the cleanup job to restoration company allows focusing on family and its wealth. Do it as soon as confirmed by the insurance company. Choose among reputable companies in your area, like Signature Water and Fire Restoration, so the best quality service will be provided in a short time to help you restore the property and bring your normal life back. You can get our technicians 24/7 and we do our best to deliver results in the shortest periods.
Secure the Property
Houses damaged by fires are attractive to thieves and vandals. Ensure you boarded up doors and windows to prevent access of any undesirable third parties to your home and maybe even save them lives, because of the danger of the presence there. Signature Water and Fire Restoration team assists in property securing making owners be confident in remaining property safety.
Find a Shelter or Place to Stay
Wildfires are an unpredictable and uncontrolled disaster which is better to live through with the help of the community. The best option is to find someone from family or friends to stay for a couple of days or weeks (depending on damage degree) while the fire restoration is performed. Another option is to request FEMA or The Red Cross for assistance. The third option is to request assistance with the shelter at the insurance company.
Please do not disregard this recommendation because even a small fire can bring significant danger and damage to your property and require an inspection from the fire department on matters of contamination.
Don't Forget About Pets
It's unacceptable to leave your pets at the place of fire, they need to be taken with you or be put in a temporary pets shelter. At the same time, it's dangerous to take pets back until the cleanup will be completed. Remained debris and chemicals used during firefighting are toxic. Take care of your pets and protect them from any health risk exposures.
Remember About Unseen Danger
The first 2 things which come into mind thinking about fire are flame causing burns and black smoke causing asphyxia. While these 2 brings immediate hurts and obvious danger, the volatile organic compounds (VOCs) released into the air while any non-organic material burns cause slow but significant damage to the health. VOCs can not only bring the hazard but cause lethal being abundantly inhaled, ingested, or skin absorption. Being observed too late they still can cause ailment even through the years after the fire accident.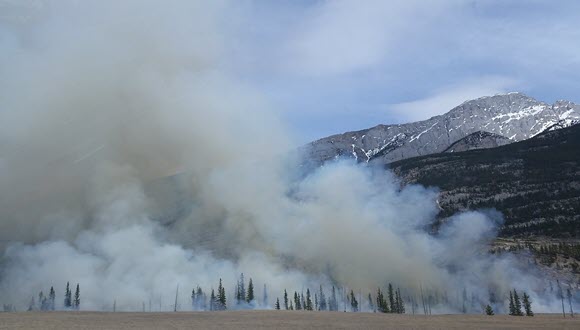 Other Hidden Contaminants
Inspection made without professional equipment may show soot, ash, or other contaminants' absence. As a result, of a not rigorous check, the property owner may decide that surface cleanup and some aeration will be sufficient remediation actions. But this would be a huge mistake.
Contamination from the fire can deeply absorb into surfaces. Only professionals from a reputable restoration company may assess the contamination degree using a specific dry sponge and equipment for its inspection. If the contamination degree is significant the premises will require thorough cleaning of all surfaces like walls and floors, ceilings and windows, HVAC, attic, and cabinetry with specific equipment and solutions.
Don't Disregard The Importance of PPE
Removal of debris or damaged materials that appeared after the fire can be dangerous if performed without PPE because toxic parts and contaminants may release back into the air during this process and settle on skin, eyes, and even on your lungs when you breathe it. Thus, everybody who deals with such debris must wear PPE for safety, including masks, clothing, gloves, and boots. Another thing to consider is the necessity to keep yourself and your family hydrated because fires dry air and you may feel water deficit in the body after a wildfire. Find time for regular meals and sufficient rest.
The abovementioned dangers are reasons to hire professionals like Signature Water and Fire Restoration, who has both experience and PPE. Otherwise, handling the issue by yourself may lead to toxins getting to the bloodstream via lungs and poisoning organism which can even cause death.
Dispose Electronics
Even when the fire has been extinguished it's still a high probability of its new iteration because of soot and smoke residues. To avoid this hire professionals, who can not only prevent the fire recurrence but can help to prevent surface discoloration and staining by their thorough cleaning.
Smoke and soot destroy electronic home appliances and make them impossible to use even if they look not damaged. Chemical components released after the fire accumulate on appliances and inside them on circuits increasing the risk of short-circuit to very high.
Food and Medicine Disposal
The toxic elements that appeared from fire ruin not only surfaces and appliances but food, toiletries, and medicine as well. The best and safe decision in such a situation is to discard them all. The general rules are as following:
Non-perishable food from open containers should be disposed of together with those containers. Canned food is also considered under this rule.
Perishable food to be disposed of in the total amount, especially if they have a smoke smell or soot remaining inside the fridge.
Drugs and toiletries follow the same rule – once soot or smoke damage has been detected all of them, including makeup, drugs, or any other products.
Cleanup Exterior
Fires damage not only the property inside the premises, but they also contaminate the house's exterior. Pay attention to sidewalks, walls, driveways, and clean up them in a first turn to avoid contamination penetration from exterior to interior. To make it carefully and don't bring additional damage to the outside of the house request a service restoration company that will wash the cement and structure of the building. Although be ready that burnt landscaping will be removed as irrecoverably damaged.
Why Do You Need Signature Water and Fire Restoration?
When you experiencing a fire the first thing to do after conversations with the fire department and the insurance company is hiring a local restoration company with good references – Signature Water and Fire Restoration. We strive to remediate fire aftermath in an extremely short period with high quality and making no worries to owners. Our certified and well-trained experts will do their best to bring you back to normal life after the fire!