In case you deal with damage caused by water leakage or flooding, you need to undertake immediate actions. First of all, it's necessary to identify the roots cause of such damage, for example:
Natural disaster;
Burst in sewer lines;
Leakage of water pipes and so on.
Please be noticed that water damage may cause more serious damages to home structure, which makes it really stressful for a homeowner to deal with. That is why it is better to call professionals, such as, Signature Water and Fire Restoration Company. But in any case, there is a number of tips that can help you to limit the damage as much as possible.
Consequences of Water Damage
On the one hand, water is crucial for life, but on the other hand, it has vigorous destroying power that may cause a huge mess that needs to be cleaned up. Below you'll be able to find a list of areas that should be inspected for damage first, in case you have noticed water leakage or flooding at home:
HVAC system and appliances;
Electrical wiring and insulation;
Plaster & drywall;
Framing & wood;
Flooring & pipes.
If you leave water damage unattended, it may become a cause of your home's foundation damage. And as you understand, it may lead you to a significant bill for restoration works. That is why it is so crucial to react to noticed water leakage immediately before it leads to more serious damages.
What Need to Be Considered Before Restoration Works after Water Damage Begin?
Below you will be able to find a number of factors, consideration of which will help to evaluate the consequences from this situation and make a decision whether it is necessary to call professionals or it is possible to be cleaned up by yourself.
The Volume of Water
Here are a few examples:
You faced a moderate or relatively small amount of water. In such a case, usually, you will be able to manage such leakage by yourself by using the simple tools;
You face significant water flooding at home and water does not go away despite any of your efforts. In such a case, you should call professionals and do it as soon as it is possible;
You deal with a large flood or even a natural disaster that causes a significant level of your home's damage. In such a case, you do not need to think about your home cleaning and just strictly follow your local disaster relief authorities' instructions. After the disaster, you should call professionals, because you need to get damages assessment from experts.
Damages' Source
It's critically important to identify what type of water you deal with before beginning any actions on restoring property after water damage. Below you'll be able to find a list of water types that may leak or flood your home:
Clean type of water. There're no chemicals that may be harmful to health in such a type of water, so it is safe. Usual sources for such water are leaky pipes and rain.
Gray type of water. This type of water may have slight contamination, so you still can deal with it by yourself if you have proper precautions. Usual sources for such water are washing machines, toilets, dishwater, and other types of appliances.
Black type of water. This type of water is unsafe and harmful for your health because of the content of hazardous contaminants in it. So should not deal with such type of water by yourself, leave it for professionals. Usual sources for such water are flooding from a river or other types of water sources, as well as sewer.
Level of Water Damage
One more critically important thing that has to be done before beginning any restoration works is damage level assessment. Usually, a homeowner is able to fix light damages, but some types of structural damages may not be visible and it is better to call professionals for damages inspection.
Helpful Tips for Home Restoration Damaged by Water
Below you'll be able to find a list of must-know tips and advice that may help to deal with water damage. Please be noticed that mold begins to grow on wet materials just in 24 hours, so do not lose your time and act immediately.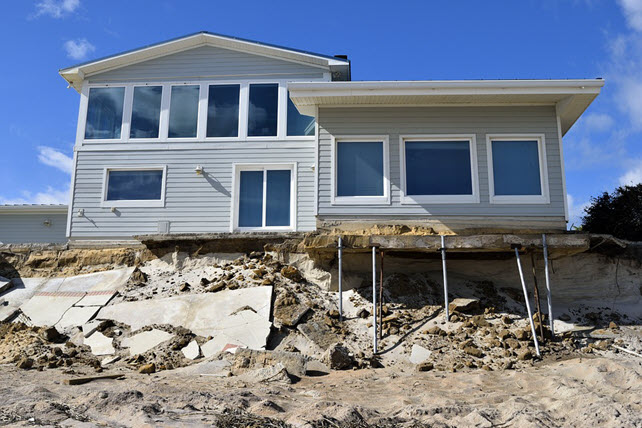 The First Tip – Outlets Disconnection
You should unplug all the appliances and other electronics immediately once you've noticed water leakage or flooding at home. Please remember, as have been already mentioned above, water damage is not always visible, so it's more than important to be careful using gas lines and other appliances because electrical shocks and explosions may be caused by it.
The Second Tip – Drying
On-time drying of the areas which were affected by water damage will prevent you from more damage in the future. Using powerful dehumidifiers, as well as fans, will help you with air circulation, eliminating moisture, and drying out surrounding materials, such as wooden furniture, carpet floors, and some others.
The Third Tip – Perform a Mold Inspection
This step is critically important because commonly the mold' strains spread after area infections in a really fast way. Some of these strains can be toxic and create a serious risk for humans' health. So to avoid hazards for your health, you should inspect areas that were affected by water damage for mold growth in a very careful manner. If the infestation by mold is small, it will be enough to cut the infected area out, pack it in a bag to further dispose of it. In the case of more serious infestation, you should call professionals of mold disposal with previously shutting any kind of airflow down in order to avoid further contamination. Please be noticed that mold can grow in places that are not visible, such as inside of floors and walls. To avoid such cases mold growth inspection should be performing during the whole restoration process.
The Fourth Tip – Damaged Materials Removement
First of all, you should emergently dispose of all porous materials, such as carpets and insulations, that are soaked with water in order to avoid mold infestation. Second of all, you should handle the damage made to the floors and ceiling. It includes dismantling and replacing wood, as well as drywall and unsealed cement to provide access for home's structure repairing after water damage.
The Fifth Tip – Remaining Areas Disinfection
After removing materials that have been damaged by water, you should also perform all area disinfection before beginning restoration works. As you already learn from the mentioned above information, water damage may cause mold infestation, so you should perform sanitization as soon as possible. To avoid the growth of mold spores you may wipe down or spray the surfaces with bleach. Also, some types of water may contain a lot of hazardous chemicals and bacteria that make it harmful and unsafe for humans' health.
Choose Professionals for Restoration of Your Home after Water Damage
If you deal with water damage at home in Chicago, Illinois area, call Signature Water and Fire Restoration Company and we will be glad to help you with it. Of course, you may think that damage is light and it is easy to handle it by yourself. But to be one hundred percent sure that damage assessment, mold growth inspection, and restoration work performed in the right way and there are no hazards that may be harmful to your health, it is better to leave these questions for professionals. Call us, our phone number is +1224-515-0100.