There are several reasons that may cause the flooding of your residential house:
External flooding sources:
Rivers, creeks, sewers and so on overflowing;
Inadequate drainage during the heavy rains;
The foundation leaking;
Internal flooding sources:
The failures of the sump pump;
Tree roots or broken drainage cause sewage backups;
The burst of pipes.
In any case, no matter what was the reason for the flooding, was it an external or internal source of it, residential house flooding will cause many issues and problems that you will have to fix and overcome. That is why so important to be prepared for such situations and have the knowledge that helps you to clean up damaged by flooding area and do it safely and effectively. Making the right decisions during the cleaning up can help you to limit the damage to your property and health.
How to Make Cleaning Up the Flood Damage Safely
First of all, you need to understand that flooding water that streams into your home from overflowing rivers and sewers, often contains the following harmful and hazardous substances:
Bacteria;
Harmful oils;
Untreated sewage;
And other types of contaminants.
Please get acquainted with the standards for cleaning and restoration industry procedures and quality sets by IICRC (The Institute of Inspection Cleaning and Restoration Certification). In these standards, you can find safety and health guidelines during the cleaning up after flooding.
The First Thing to Do – Dry the Area Out
Please do not forget about the following precautions during the cleaning up after flooding damage that can save you and your health:
Be extremely careful when you entering your residential house or any other property after flooding, because structures, as well as ceiling and walls, can be damaged by water significantly.
Before entering the property make sure that electricity is off and there is no chance to get shock hazard.
Also make sure that all propane, natural gas, or any other fuel sources are shut off.
Be careful inside the property, because some reptiles and animals can be hidden there because they tried to find a drier and safer place in your home.
To avoid any harms, please move any furniture really carefully and only if it is necessarily needed.
And now, when you already know the major precautions, let's see what should you do to dry out the damaged by water flooding area:
Identify moisture pockets and expose them. All damaged materials need to be removed, including saturated insulation, wall panels, base molding and so on. All materials that are below waterline and ten-fifteen inches above it, determined as damaged.
Identify and get the rid of contaminated materials and items that can't be cleaned thoroughly, including the following:
Most porous materials;
Padding;
Carpets;
Drywall;
Box springs;
Pillows;
Mattresses;
And so on;
Also please be noticed that something may be salvaged. For example, clothing can be salvaged by thoroughly cleaning with machine washing, including ten-minutes hot-water soaking and detergent use.
To provide proper and effective harmful molds prevention, sanitizing, cleaning and drying for subfloor or underlayment materials, it is necessary to remove such flooring materials as laminates, vinyl flooring, and hardwood.
Prevent mold growth. Mold can be perfectly hosted on such materials as particleboard, drywall, and other paper-based items. Especially if it is warm. And the main goal of after flooding cleaning up is to prevent its growth. So you need to ventilate the damaged area good enough by opened windows and fans.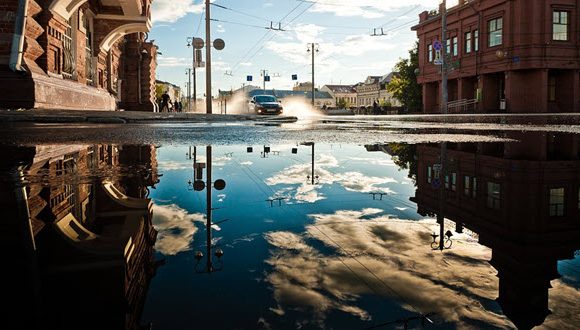 Make Sure That You Do Everything Safely
Cleaning up the process of the residential house after flooding damage can be very challenging for most homeowners and it is natural. That is why most homeowners decide to call professionals in this sphere, because they will do it much faster and more effectively. But in case you decide to overcome this issue by yourself, please do not forget about the following safety tips:
Use personal protection equipment during the cleaning up process. Such equipment includes the following items:
Respirators that can save you from hazardous particles in the air and be easily bought in home improvement or paint supply stores;
Eye protection glasses;
Rubber gloves;
Protective clothing that covers all of your body.
Use fans and open windows to keep the damaged area ventilated and drying out faster to prevent the growth of mold.
Clean all of the damaged areas and materials thoroughly. And when we are talking about all the damaged materials, we also include such of them as internal wall cavities, floor joints, wall studs, and other structural components. All of them need to be cleaned up aggressively with using special detergents for such purpose. The most effective method to achieve success in this cleaning up is using pressure washing for such materials.
Do not forget to treat the areas affected by flooding damage with a significant amount of disinfectant after cleaning them up thoroughly.
Do not rush to start the reconstruction works when the areas of your residential house affected the flooding damages are not dry and cleaned up good enough, or are not disinfected yet. Of course, it is a natural desire to fix everything and go back to your home as soon as possible. But to make everything safe for you and your family, you need to make everything in a proper way. To know when your home is dry enough and ready for rebuilding works, you can buy moisture meter and wait until it shows at least 16% of moisture content.
More Helpful and Useful Tips in Case Your Home Faced Flooding Damage
Here are some helpful tips that you as a homeowner and your family should follow before the reparation works even begin:
Before you will be sure that there are no sagging floors or other serious structural damage and it is safe to enter the house, no one should go there.
If damages of your house look serious, do not allow anyone to go inside and do not do it by yourself until it will be verified as safe to enter by an inspector or other authority;
Contact your insurance company to get references for qualified and certified local-based restoration company;
Remove as much standing water from the house as you can. For example, you can start draining your basement;
In case you make sure that it is safe to go inside the house, you should start airflow inside by opening windows and doors to all closets, rooms and even kitchen drawers and cabinets. You can do it even before restoration specialists arrive;
Remove inside moisture sources such as soaked rugs and so on.
Why It Is Better to Call Professionals?
For most homeowners, their residential house is their largest investment, so it is extremely important to make restoration works in a proper way and make the home clean and safe again. But such things as improper cleaning, inadequate drying, and premature rebuilding can cause further damages to your home and health hazards. Here is a list of reasons why in such cases it is better to let professionals fix everything:
Education, Examination, and Certification. All of the professional specialists have learned safety procedures and the best practices of restoration works after flooding damage and have passed industry tests after;
Regular training. All of the professional specialists train on a regular basis all aspects of restoration works, such as removing damaged materials and items, drying and disinfecting the affected areas, as well as the rebuilding of these areas;
Specialized professional equipment. Such equipment as moisture meter, industrial fans, pressure cleaners and washers and so on helps specialists to perform restoration works fast and properly;
Avoid hiring scammers and fraudsters. Unfortunately, there are many scam artists who would like to use your emotions and desire to fix everything as soon as possible and get their profit for it. To avoid hiring such people or companies, please check do they have a certificate from IICRC because only IICRC-certified specialists and companies carry liability insurance and held a code of ethics.
Choose Signature Water and Fire Restoration
In case your residential house in Illinois faced flooding damage, please feel free to call Signature Water and Fire Restoration and our specialists will help you to everything effectively and fast. Our phone number is 1-224-515-0100, call us!