Most homeowners do not know the difference between the residential house restoration process after a fire in the house and after a wildfire. Moreover, most homeowners do not even know that this difference exists. And you are one of such homeowner but would like to learn more to protect your property, please read the following article below. It will help you to understand how to bring your house and life back to normal, in case you face one of these fire types.
So What is the Difference Between Wildfire and House Fire in Case of Property Recovery Process?
These types of fire have some common features, such as in both cases the source of damage is fire and both of them can cause significant aftermaths for the property and people inside of it. But the process of recovery in these two cases will contain many more different steps because of different types of damages.
Let's Start with Features of Property Recovery Process after a Wildfire
According to the information provided by Congressional Research Service and other latest researches:
In 2018 close to 26 thousand buildings have been burned because of wildfires. This significant number includes residential houses, commercial properties, and others;
Close to 70 million acres of the United State land has been burned out because of wildfire during the last ten years. The number of wildfires that occurred during this period is significant, namely close to 67 thousand. Each year wildfires burned out close to seven million acres of land in our country.
The first thing that you need to know that the recovery process after a wildfire mostly focused on recovery such areas as grasslands, forests, and others, that got significant damages because of wildfire. And recovery of structures, such as residential houses, is just one of the parts of the recovery process after a wildfire.
The main goal of the recovery process after a wildfire is to recovery a land affected by this type of disaster. The nature of such areas needs professional help to be brought back to normal. In this particular case, it means to bring such damaged area back to life.
Such a recovery process includes the ecological recovery of the affected areas. The ecological recovery process is one of the most important processes because it focused on the recovery of the whole ecosystem of the damaged by a wildfire area. Not only trees and grass get damaged because of wildfire, but all of the animals and other living creatures that are living in this area will be affected also. That is why the main goal of the ecological recovery process is to bring the natural balance of such an area back to normal.
But in case your residential house gets into the area of wildfire damage, you will need to worry not only about natural balance but about brining your and family's life back to normal also.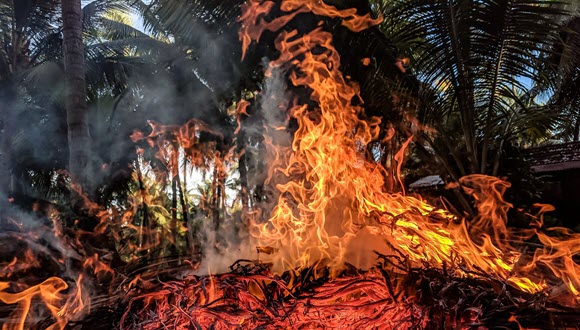 Let's Continue with Residential House Recovery Process after a Fire
According to the information provided by the United State Fire Administration, also known as USFA:
Only in 2017, more than 371 thousand fires in residential houses have occurred;
This significant number of fires caused damages for more than 7 million US dollars;
But what is much worse, it caused close to 11 thousand fire-related injuries and more than 2.5 thousand deaths.
That is why you need to be more than careful in case your residential house faced fire damage. No matter was it a house fire or a wildfire, it is too dangerous for an average homeowner to try to overcome it by himself. Because a fire not only damaged the structural parts of your residential house but also caused contamination of your house with the smoke, odor, and others. The best way for it is to call professional specialists in the residential houses recovery process after fire damage.
Certified specialists from Signature Water and Fire Restoration will help you to restore all of the damages and let you and your family move back to your house as soon as possible.
Some kind of damages after a fire cannot be identified without a full assessment. For example, such contaminators as dust, soot, and smoke can be easily identified on the damaged ceiling and walls. But it is not so easy to identify them on flooring materials and under them. The same situation is with the most serious type of damages that can be caused by fire, namely damages of structural parts of your residential house. Such damages can be identified only after a professional inspection that can confirm that the structural parts of your house meet standards of safety.
Here is a list of steps that will be done by specialists from Signature Water and Fire Restoration to recover your residential house after a fire:
Removing all of the contamination, especially unpleasant odor. Every person who at least once have faced a residential house fire damage, know that such odor can be extremely strong. Moreover, this unpleasant smell can leave in the house for a long time even after other types of damages have been restored. That is why our specialists use special professional cleaners that will not only avoid any microbial contaminations but also remove any odors.
Identifying and removing all of the damaged materials. As already mentioned above, not all types of damages can be easily identified. That is why our specialists will perform a full inspection first.
One of the first types of materials that need to be inspected and removed if damaged is flooring materials. As already mentioned above, such contaminators as soot, dust, and others cannot be easily identified on and under the flooring materials. Such contaminators can be dangerous for health.
One more extremely important step that needs to be done to protect your family's health is to restore or remove and replace (if restoration is not possible) the Heating, Ventilation, and Air Conditioning System, also known as the HVAC system. Because the HVAC system may spread the contaminators that can be dangerous for health for a long time after a fire.
Full inspection of the structural parts of your residential house with the following recovery of the damaged parts to make them meet standards of safety. This step cannot be missed because structural damages are the most dangerous for the house.
There is no matter what type of fire damages your residential house in Illinois has been affected by, in any case, certified technical specialists from Signature Water and Fire Restoration will help you to overcome all the aftermath. Please feel free to call us on our 24/7 phone number: 1-224-515-0100.