Fire damage can result in significant losses to personal property as well as to the business. Thus to minimize negative consequences the time factor should be considered. As faster you'll react and call technicians for help as less damage will be necessary to handle.
What Fire and Smoke Effects Are?
It is impossible to imagine two similar scenarios of the same fire at the same place. Thus it is impossible to foresee any certain damage results as well. Although in some hard cases damage can be worse than just physical. Fire progress depends on a complex combination of factors such as materials affected, temperature level, type of building constructions and their material, the time of affection and many others. All these factors together influence the degree of damages and respective consequences.
Aside from obvious fire and smoke damage the other types of destruction may appear after the fire fighting works. For example, water used during a fire extinguishing may damage property. or it also is possible to find leaks in the kitchen or bathroom, which should be immediately checked and fixed, if any. Additionally, the heating and energy-saving systems can be damaged as well. Sometimes these types of damage may appear subsequently on a few days or weeks after the incident happened.
Damage from the smoke is often underestimated because its consequences can be not so obvious. Good examples of hidden threats are toxins and chemicals. They get deep inside the walls, floors, ceilings and negatively affect the health of the house owners causing respiratory diseases and sometimes leading to lethal cases. Thus affected surfaces and their materials must be removed and replaced as soon as it is possible and the remaining smoke and soot must be cleaned by professionals without matter did the fire happened at home or business premises.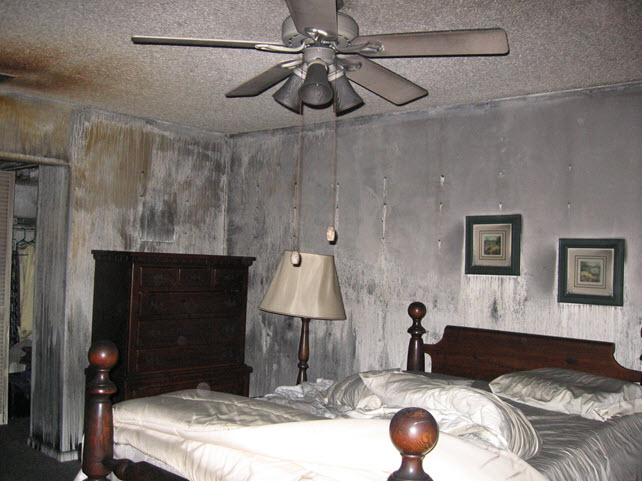 Why Do Restoration Works After Fire Should Be Done Immediately?
First, it is important to realize that decontamination is an important part of fire stabilization works, which can reduce negative effects and make the list of replacements shorter by leaving a chance to restore the property.
Another reason to deal with fire damage is the fact that it causes corrosion, which spreads quickly. Respectively damaged materials should be restored quickly, otherwise, there is a chance that it will be nothing to restore.
Signature Water and Fire Restoration realizes that significant damages and losses may take a lot of time for restoration and block the normal life or business flow. Thus, our mission is to make this period as short as it is possible helping people to return to normal life faster.
Typical Fire Restoration Procedure
In spite of the non-similarity of fire scenarios the way to fight is typical includes the following steps:
After the emergency service completed work by fighting the fire and investigating its reasons the preferred Water and Fire Restoration company should be promptly requested for its services. The process of property restoration actually can be started immediately when the respective declaration from emergency service was done.
The damage is evaluated by the restoration service, which makes it possible to define the workflow, timelines, and estimated costs for all further works.
Restoration company takes measures to prevent further losses, which may appear subsequently after the fire, like for example water leakage.
The first actually restoration step is smoke decontamination works to clear premises from smoke, soot, and dust. Usually, at this step the professional equipment is applied to make cleaning with water under the pressure, clean the air, clean surfaces by steam, dry the air and remove fire odors. In case some furniture or things of personal use or household goods cannot be restored the restoration company will help to safely and legally liquidate such property.
The remaining property, which can be repaired and restored will be processed by a restoration company to bring it to a condition very close to those, which were before the fire accident.
How Are Restoration Services Beneficial for You?
One of the main benefits is cost-saving, which allows us to avoid expensive replacements, save costs from the rent of a temporary place of living, time, and efforts.
Additionally, some things have not only the material values but sentimental too and it is critically important to saving them. Documents, family pictures, business records can serve as examples of such things. Happily out Signature Water and Fire Restoration specialists know how to handle this issue and leave clients satisfied by service.
We are opened 24/7 and ready to help people in trouble any time they need, contact us by 1-224-515-0100 for more details.