One of the most stressful and exhausting things is to see your own home with all its sentimental and property values burning in a flame. The only thing, which may return confidence in a future and provide support at such moments, is realizing that most of the things can be restored and repaired from damage caused by the fire and smoke.
Signature Water and Fire Restoration is a reliable company, which has years of experience allowing to help people get back their property and usual way of living in the short time and fewer costs. Our aim is to make the life of people, who got in such trouble, easier during the period of restoration helping them to save their money and efforts. Our service includes a variety of tools and technics for the removal of fire and smoke damage effects. Thus our clients used to come back to their homes and usual lives quickly and at a more affordable price.
Fire's Classification
Depending on material burning there can be different types of smoke and affects, thus the classification is based on the nature of fire and can be:
This type considers burnt food, which left strong odors and soot on surfaces.
This type appears as the result of simultaneous burning of synthetic and natural materials. It is supported with black toxic smoke, which causes corrosion and hardly-removable odors. The key point handling it is to perform decontamination of the air and corrosion mitigation measures.
The type of fire, when only natural material are in flame such as trees and bushes. Usually smoke from this type gents deeply inside of damaged material and it becomes a challenge to remove it.
Malfunctions of appliances. As an example, furnaces on oil fuel can cause smoke in case of malfunctions, which quickly distributes over the premises.
Other Effects, Except for Fire Damage
The obvious damaged brought by fire is also supported by soot and smoke damage. The affects caused by them are:
The corrosion;
Odors, which cannot be removed just by ventilating of premises;
Discoloration of surfaces like walls or floors;
Spoiling white finishes to yellow and glass tarnish.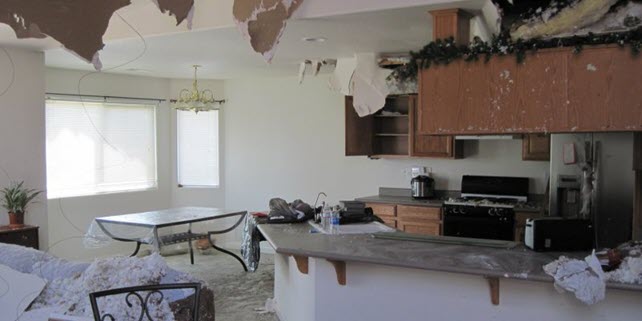 Why Professional Involvement Is Necessary?
Depending on a type of fire and other various external factors the different measures for fire restoration is necessary. Thus to avoid critical mistakes and be confident in a good result it is wise decision to request the professionals for their services. Signature Water and Fire Restoration provide their services in regards of:
Identification of the source and type of the fire;
Identification and estimation the damaged caused by water used for firefighting;
Eliminating damage caused by water;
Removing, sorting, and storing the property, including identification of immediate items and keeping them separately;
Restoration of damaged property together with removal of critically burnt parts;
Evaluating damage to floor surfaces, like wood or carpets;
Inspecting basement, subfloors, framing of the house and evaluating of the damage and level of the safety of the building;
Removing odors left by smoke, cleaning and deodorizing of damaged surfaces;
Returning the property to the house.
Why It Is Not Recommended to Handle Fire the Effects By Yourself?
Handling the problem by yourself may lead to poor quality of cleaning. In such a case the danger for health of tenants of residue of the soot, ash and smoke, which can lead to the lethal final, should be considered. Involving professionals allow to be confident in a quality of the service and the safety of the environment left after the restoration procedures.
Additionally, there is a list of actions, which are highly recommended to be avoided:
Don't touch anything to avoid chemical reactions of soot on surfaces with natural moisture and grease of the hands;
Don't clean walls by yourself, selecting improper way to wash them may allow soot, smoke odors and ash get deep inside, thus it will be impossible to remove them later;
The same is applicable to upholstered furniture and carpets;
Don't use electrical appliances, because the could be damaged during fire or firefighting and could become dangerous.
At the same time, Signature Water and Fire Restoration gathered several useful tips performing which may help to minimize adverse effects of the fire:
In case the fire was extinguished and the temperature inside premises decreased to 60 degrees it is allowed to let the air in. Providing air circulation may help to remove odors;
Surfaces made of metal, laminate, and porcelain are allowed to be cleaned from soot to avoid tarnishing, or changing color;
Change air filters everywhere it is possible, pay attention to the filters installed at furnace;
Put the tape damp to the registers to capture soot remains;
Remove any food packages, which were previously opened;
Send clothes to the professional dry cleaning;
Clean the refrigerator, remove its contents, keep its doors open (only for cases, when electricity was turned off).
In case you still have some questions or need qualified help at Illinois call Signature Water and Fire Restoration anytime at 1-224-515-0100.