Water may become one of the most damaging and ruing power for residential house. It may cause a significant level of damages for your flooring materials, ceilings, walls, furniture, valuables and even structural parts of the building, as well as mold growth.
Happily, certified professionals from Signature Water and Fire Restoration will be able to handle all of the aftermath caused by water damage. But for you much better will be to prevent and avoid any water damage in your house.
How to Prevent Water Damage in the House?
Many homeowners try to protect their homes from water damage, but most of them make a common mistake in this task. Because there're two ways of how water can get into the house and damage it, namely outside and from some source inside of the house. And most of the homeowners focused on one of these ways and forget about the second. So let's learn how to prevent and avoid both of them.
Let's Start with The Outside Sources of Water
To avoid damages caused by water, which came from the outside source you need to be attentive to the exterior.
The list of helpful tips can be easily found above:
1. Be attentive to house's downspouts and gutters installed. In case they are not clean but you found them clogged with debris such as leaves, be noted it may cause water damage. Because if rainwater cannot easily go through downspouts and gutters, it will be accumulated and then leak under shingles, on the external wall, and into the house, which will surely cause damages.
2. Be attentive to the water appearance around house's foundations. In the case of it accumulating in this area, it may cause the foundation damage, as well as damages of walls and flooring materials, furniture and other possessions in your basement premises.
3. Be attentive to the disconnection of the outdoor hose before the cold weather came. In case the outdoor hoses haven't been disconnected before the cold weather came, that will freeze and can cause the burst of faucets, which in turn can cause the water leak and damages.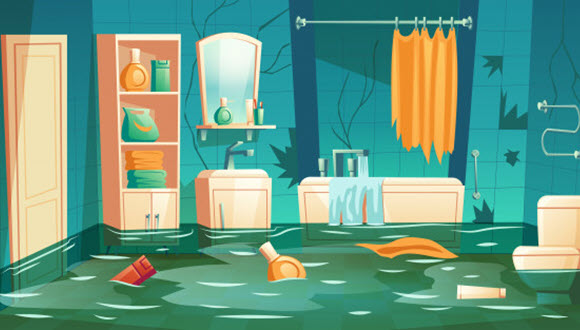 Let's Continue with The Inside Sources of Water
To prevent and avoid damages caused by water came from the inside sources you need to do the following:
To be attentive to your sump pump work. In case such a pump is installed in residential house to safe draining excess water away, you need to do the following steps to prevent and avoid water damage:

Buy battery or a water pressure backup system to equip the pump with it. It will help you to avoid water leak in case of power outages;
Do not forget to perform the sump pump testing periodically, especially before the heavy rains season came. Many homeowners still do not perform such tests, which leads them to failures in the sump pump work and water flooding caused by them. Such testing can be performed easily and fast. First of all, just increase the volume of water in the sump pit and check that float engaged the pump. Second of all, just check the mentioned above backup system by shutting down the power.
Make sure that insurance policy you have covers water damage caused by the failures in the work of the sump pump backup system. Because most insurance companies don't provide such coverage for their clients, except for some premium policies.

To be attentive to all of water supply connections and appliance hoses. Another common source of water damages in residential houses among all water-related appliances is washing machines. So make sure that all of the hoses are reinforced and inspected on a regular basis to prevent water leak and avoid it in future. In case you noticed a damaged hose, you need to replace it immediately.
To be attentive to the toilet bowl water connections. You need to make sure that all of the hoses are reinforced with metal. Also, you need to perform regular inspections of these connections.
To be attentive to shutting off the water supply when you leaving the residential house. It will surely help you to prevent and avoid water damages with the inside source of water during the vacation or business trip. Also please do not forget to choose a vacation mode on water heater to prevent it from the same water reheating.
Some More Precautions Helping to Avoid Water Damage
Below is a list of some extra steps that will be more than helpful in preventing water damage in your house:
Be attentive to the signs of water leaks in your house. If the wet spots on the walls and ceilings have been noticed by you take them as an obvious indicator of leakage, caused by leaking pipes, unsealed space around the chimney, roof ventilation, and other holes;
Be attentive to the water spots under your water-related appliances such as refrigerator, dishwasher, and others. Such water spots show you that there are slow leaks there, which can lead to a significant issue in any moment;
Be attentive to saving the valuables, especially important documents, in waterproof boxes or containers. It will help you to avoid their losses because of water damage.
Quick Guide for Those Faced Water Damage?
Even if you followed all precautions and made all the steps to protect the house from water damage, unfortunately, it may happen, but the level of such risk is much lower. So, you also need to know what to do in case such a disaster has been happened and affected your residential house.
In such a case, you will need to hire professional specialists who can meet the following criteria:
Able to arrive as soon as possible because the faster they will start their work, the more they will be able to salvage.
Have experience in the sphere of the residential house recovery process after water damage because it means that they can choose the best approach for each specific case.
Perform a full inspection of the damages before starting the restoration works to clearly determine what can be salvaged and what needs to be removed and replaced.
Have all of the necessary certifications to perform such works in the most effective and faster way.
Have all of the necessary equipment that will allow them to dry out the affected premises and areas for preventing mold growth.
Specialists from Signature Water and Fire Restoration can meet all of the criteria mentioned in the list above. So in case, you need professional help to handle the aftermath after the water damage, call us immediately and our team will come ASAP. Here is our 24/7 phone number: 1-224-515-0100.